It is estimated that 1 in 3 Indian employees will work remotely by 2022. Though working from homes offers a large degree of flexibility, it is important to ensure that one has the ideal work environment to work productively. Many office workers are still struggling to create a professional space that can coexist with their nonprofessional life. It is important to note here that even seemingly minute details such as the colour of the walls and window treatment have a big impact on the home office environment and one's work performance.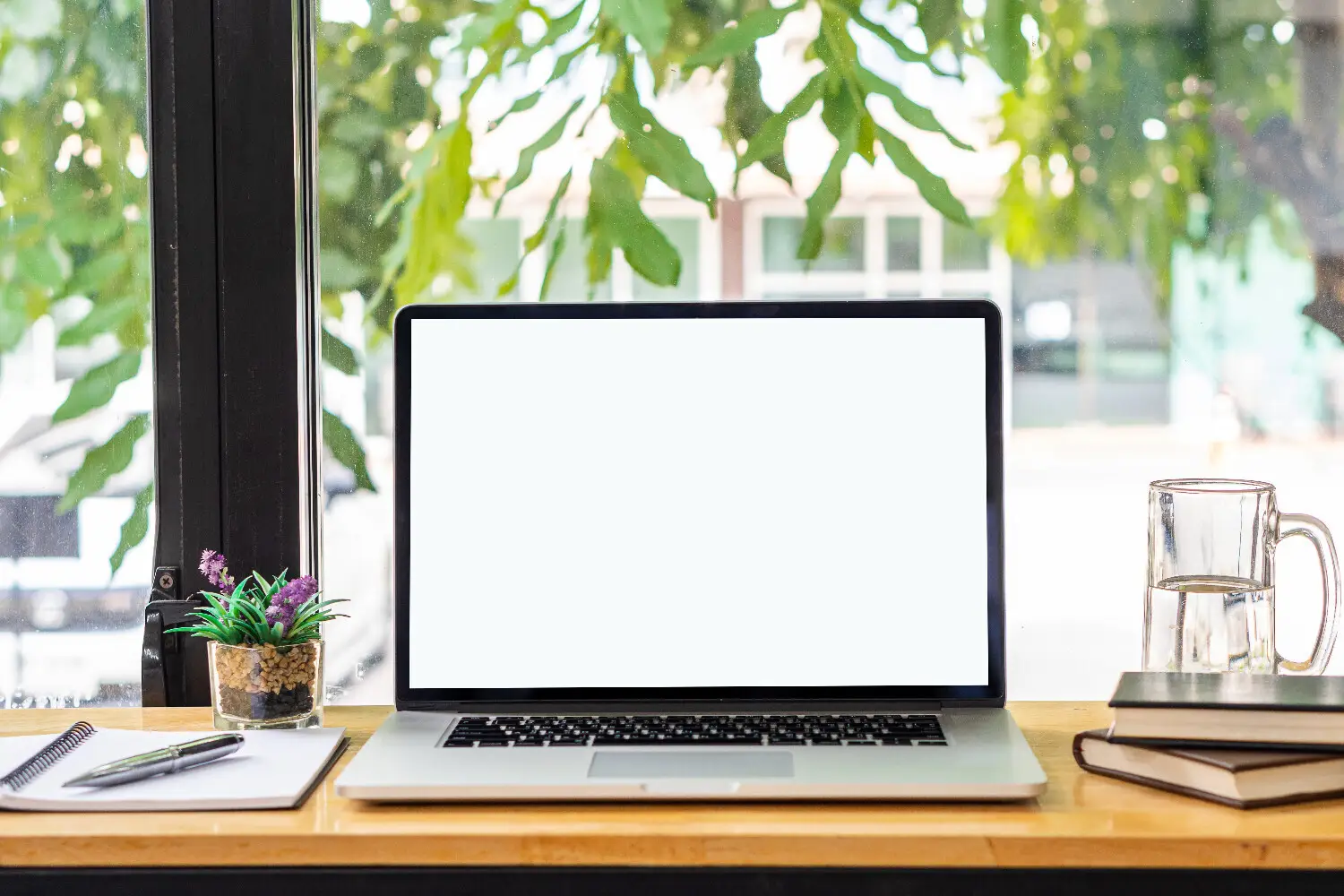 How to turn your home office into a feel-good space?
If you are looking for inspiration to create a pleasant working atmosphere at your home, here are some current design trends:
1. Large aluminium windows are in trend:
Expansive view of the outside can not only make your room feel larger but it is also a great way to enjoy the outdoors from the confines of your home. Large aluminium windows bring in the outside view and light while keeping out the noise.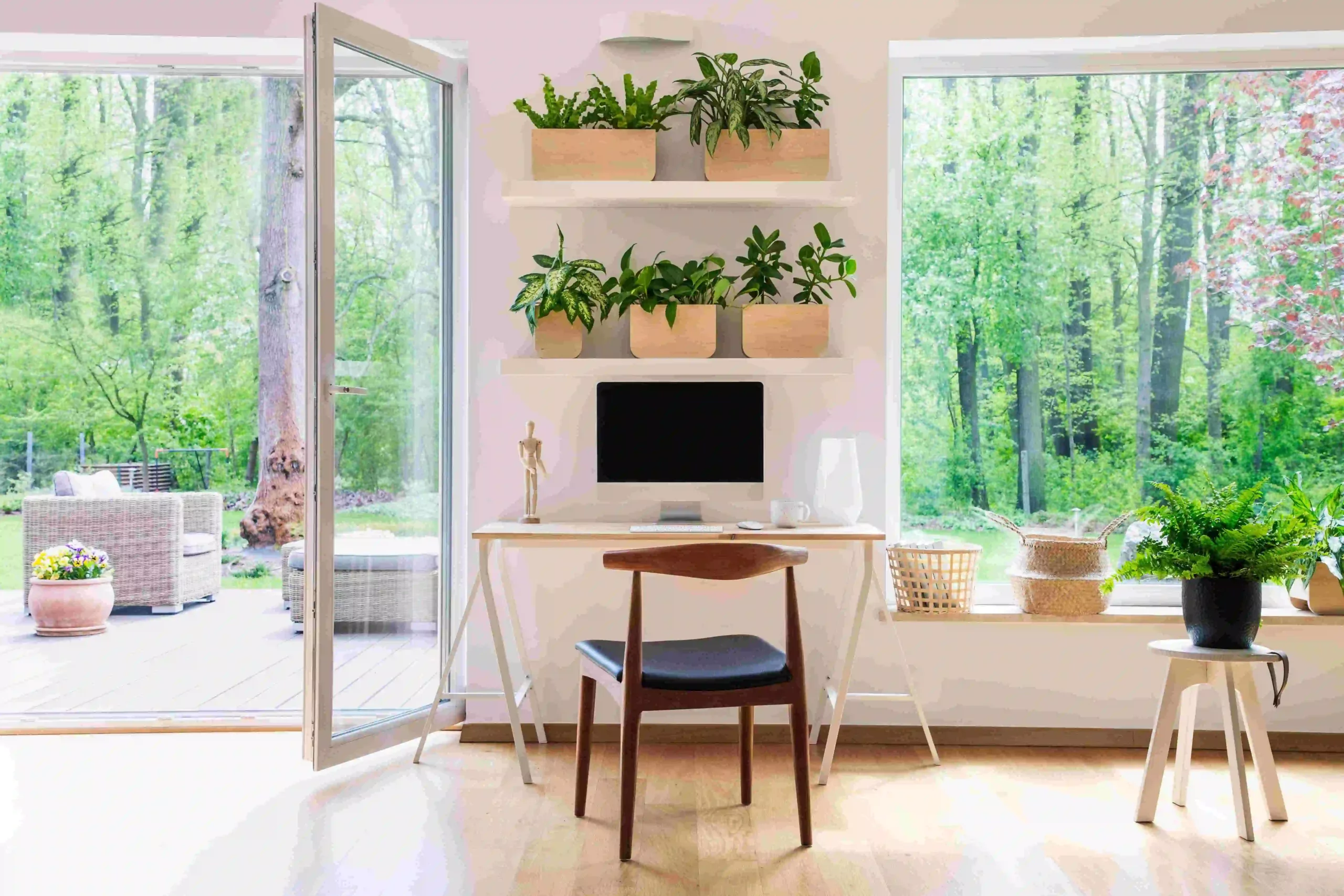 When working from home, people look for ways to reduce distracting noises coming in from outside. While some people use noise-cancelling headphones, some are investing in soundproof windows.
If you are among those who are looking for soundproof windows, explore our windows made from Duranium™ . Eternia windows can significantly reduce outside noise.
Outdoor noise levels in cities can go as high as 90DB due to traffic and construction activities, while ideal noise levels for work is 50-60 DB. Eternia windows can help bridge that gap through a combination of its WiWA certified design and higher performance noise reduction glass.
Searching for aluminium windows' prices?
Book a free consultation to find out the right window for you and window prices.
2. Leverage the power of colours :
Colours are a great way to bring joy and cheer to your home office. Bright textured vases, colourful posters and showpieces add a playful and vibrant touch to the home office design. Also, using colourful window curtains or shutters can be excellent visual and mental stimulation. If you want to go bold with your window treatment, choose warm colours such as Oranges and Reds. For a cohesive feel, opt either for neutral colours or colours that blend with the decor of the workspace.
Note: Interior designers and psychologists are studying the impact of colour on our emotions and overall well-being. Bold colours are often associated with high energy whereas lighter colours are linked to relaxation. On a physical level, it has been found that pure Red light and Yellow are associated with an increase in heart rate – thus indicating excitement. On the other hand, exposure to Blue light has a calming effect: it lowers heart rate and blood pressure.
3. Combining natural light and artificial light:
Strategically position your work desk so that you get a view to the outside. However, design the layout so that glare on the computer screens is minimal. Balance natural light and artificial light for a comfortable and pleasant environment.
A report found that those who work in office environments that include natural elements such as exposure to natural light, natural views outside and indoor greenery report a 15% higher level of wellbeing than those who work in offices that are devoid of natural elements.
Note: To turn your home office into a feel-good space, you can follow a concept called biophilia – an innate relationship between humans and nature. German psychoanalyst Erich Fromm first coined the term 'biophilia' in the 1960s. The concept was then popularized by Edward O. Wilson in 1984. However, the interest in biophilia grew over the last decade as more and more people yearned for a connection with nature. There are numerous ways to add biophilic design elements to your home office such as – growing indoor plants, installing large windows to let in more sunlight, adding the sounds of water to the decor and buying ergonomic furniture.
4. Ergonomic furniture:
The most important aspect of home office design is ergonomic furniture. From comfortable chairs to height-adjustable tables, from footstools to portable laptop tables, everything about your home office furniture should facilitate safe posture.
Note: Changing postures or changing positions throughout your workday offers multiple benefits such as increased blood circulation, burning more calories and decrease in cholesterol.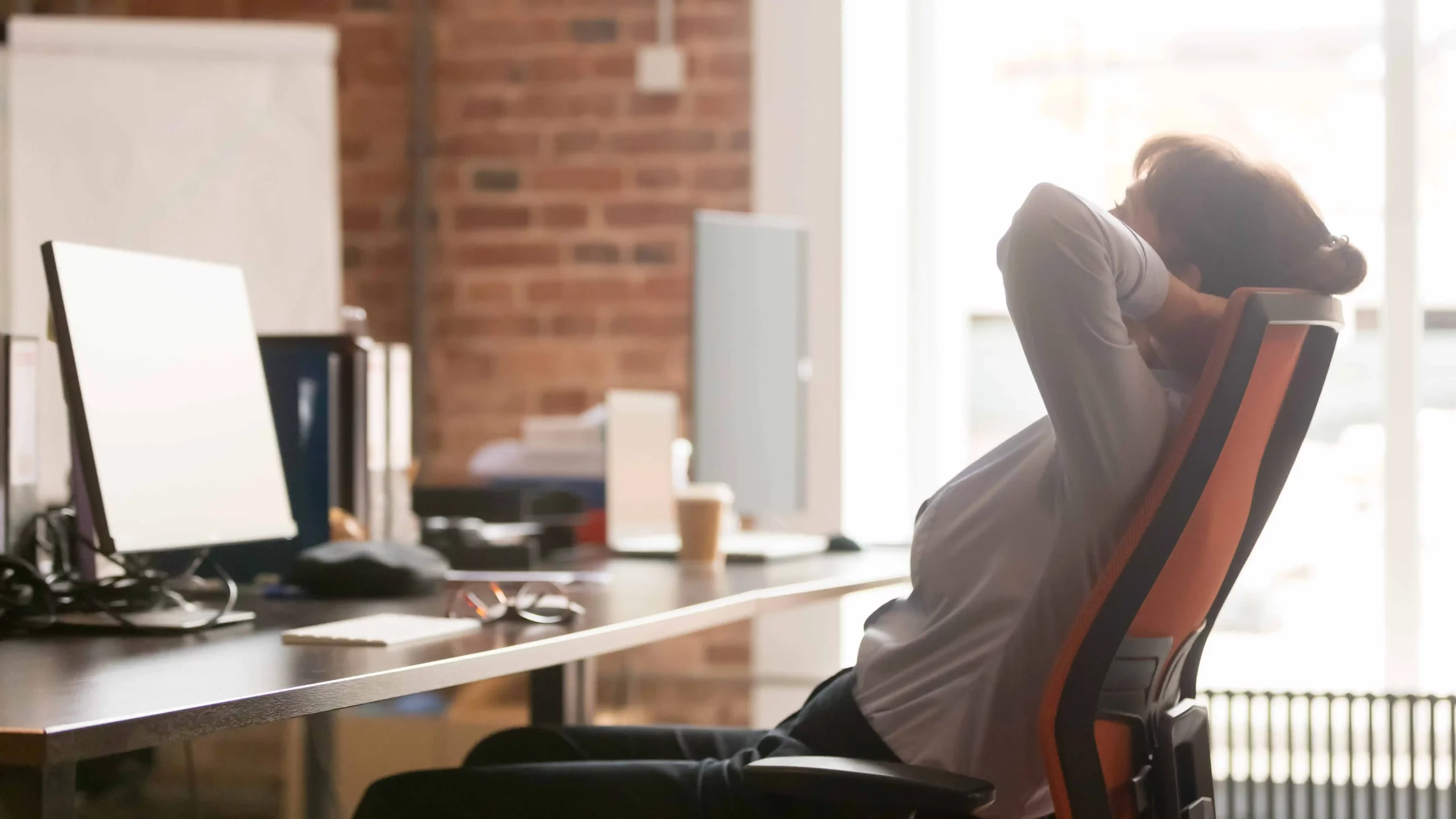 5. Accent walls:
We cannot talk about home office design without talking about video conferencing. More and more people are designing spaces dedicated specifically to video conferencing. People are creating backdrops that look elegant but not too demanding.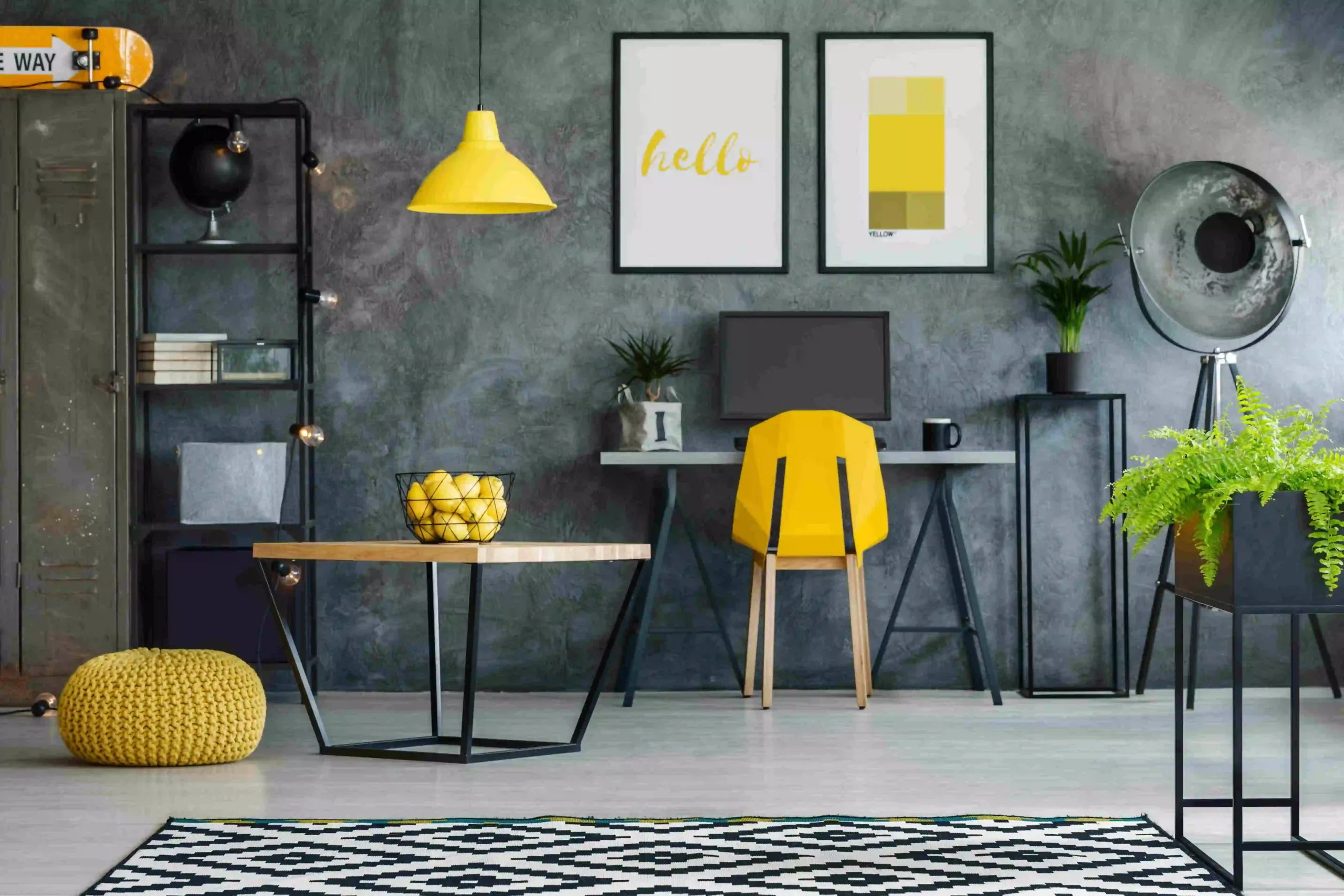 6. Room dividers are back in vogue:
The rise of people who work from home has brought back room dividers in fashion again. Earlier used in big houses only, room dividers have now made way into smaller houses too. They provide a stylish and affordable solution for separating your office from home.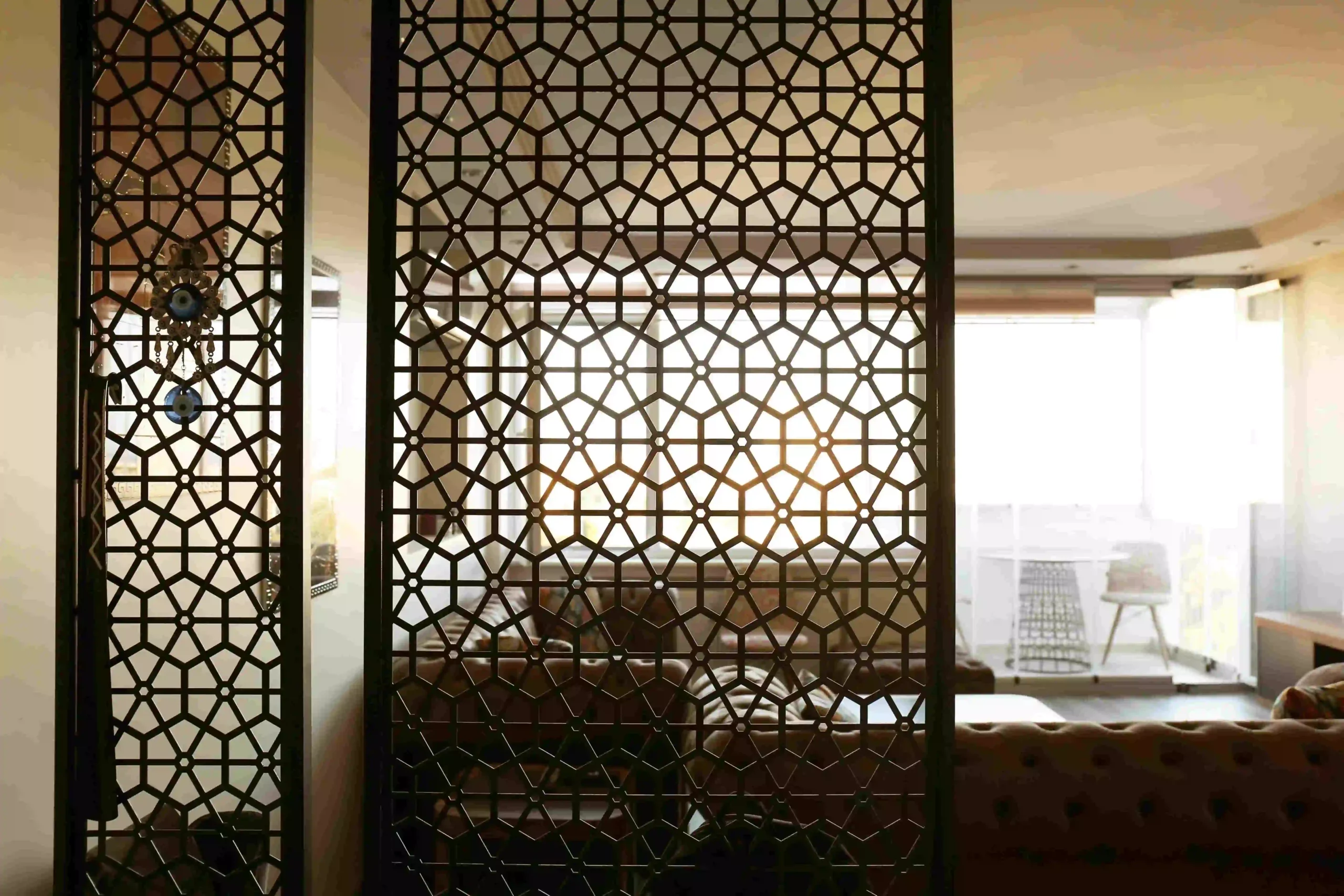 7. Defining zones with rugs:
A rug not only adds plushness to the floor but also helps in creating zones. For instance, using a rug in the bedroom can help visually distinguish the desk area from the rest of the room.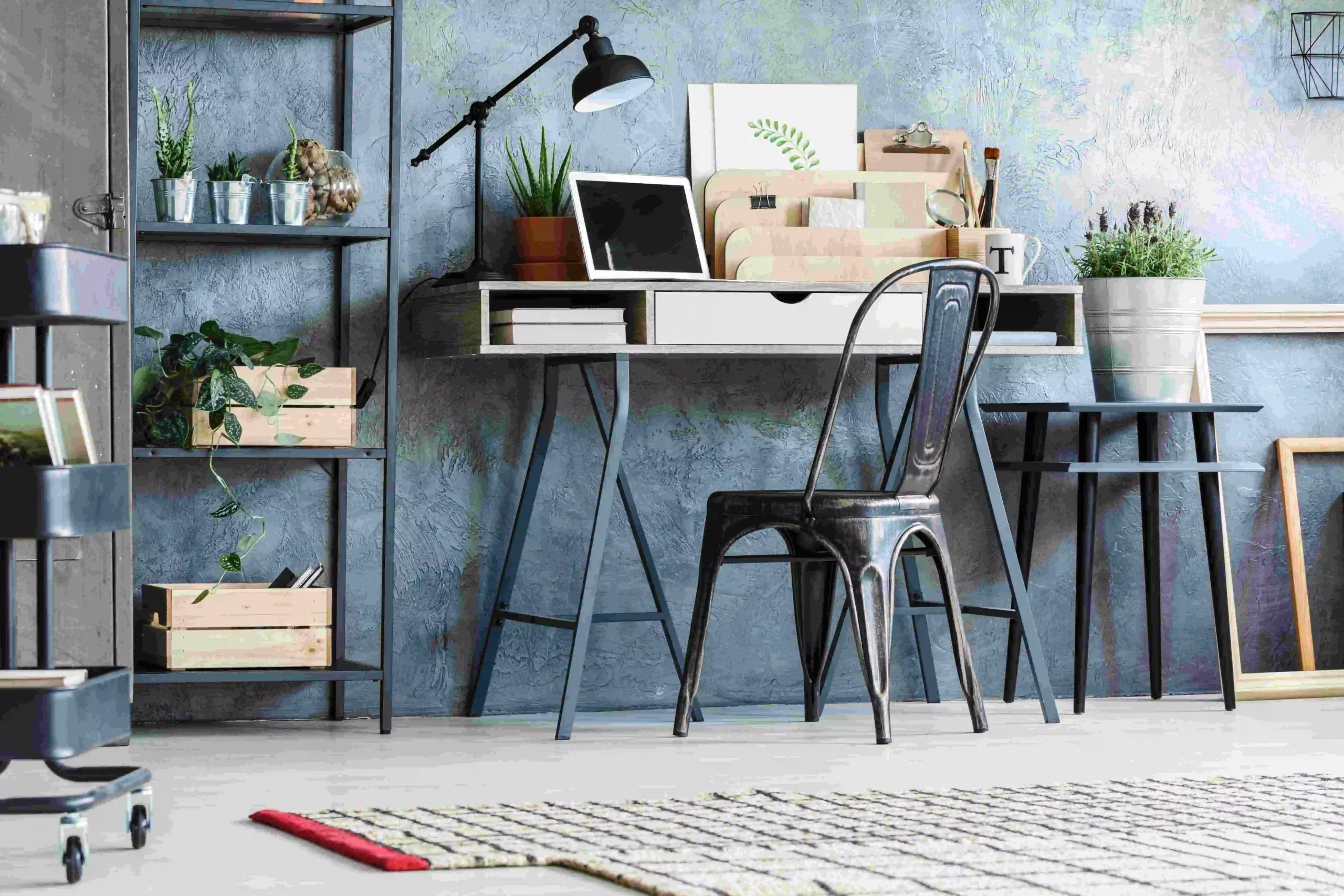 8. Plants for productivity:
Lean offices with just a few houseplants can improve employee performance on memory retention. When you are working from home, bring plants indoors – it can not only improve your productivity but can also help you enjoy a much-appreciated sense of balance and positivity. Also, plants of different colours and leaves of different shapes can add an aesthetic appeal to your workspace. If your workspace has a minimalistic decor theme, bring in large house plants. Small plants can add just the right amount of warmth and color to any space.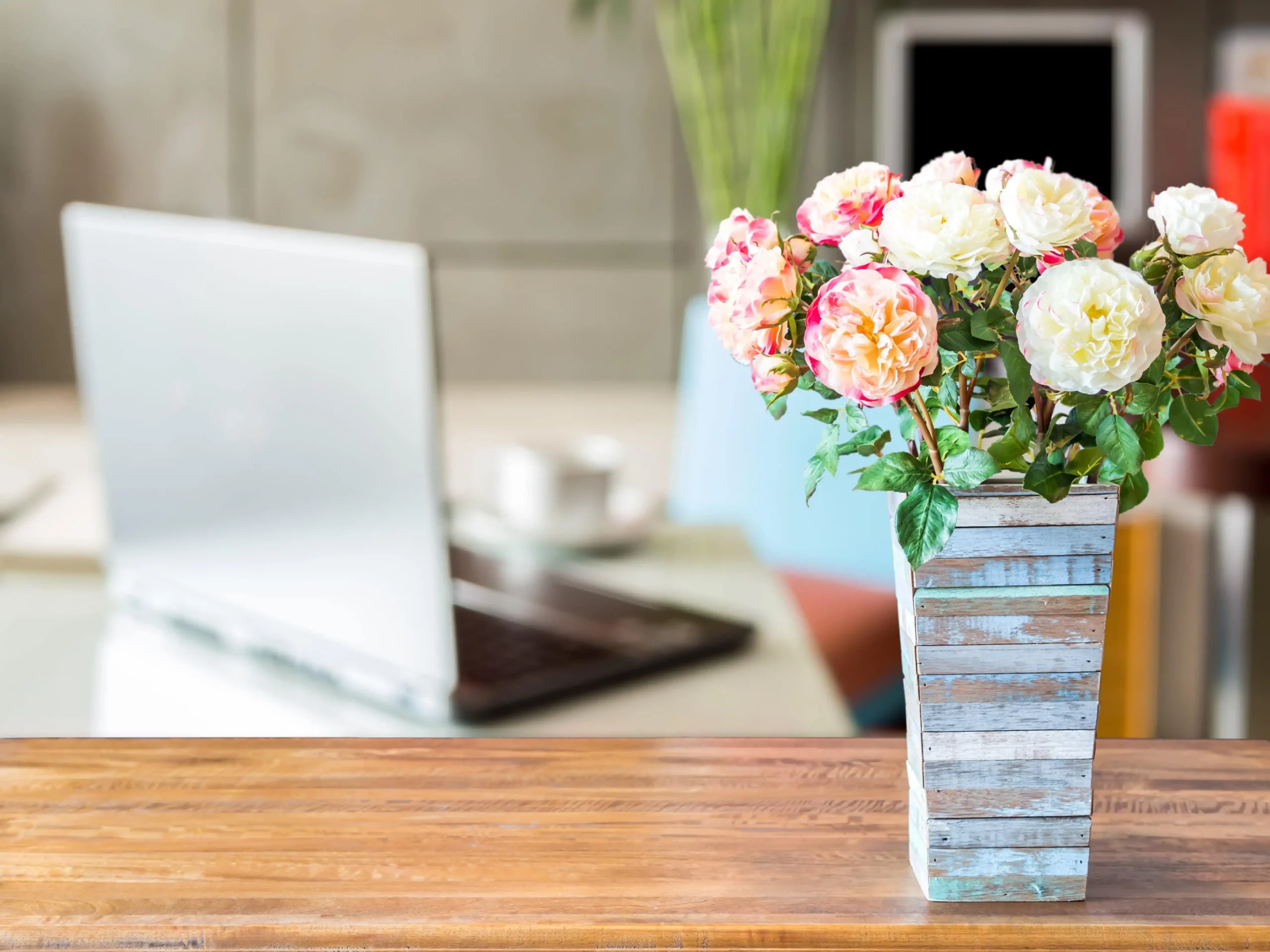 Note: Do not clutter your space. Keep enough space for each plant to flourish and grow. Before selecting the plants, check the orientation and size of the room's windows and where the plant will be placed.
9. Relaxing sound of water:
While you cannot soak your feet in the river while working from home, you can still enjoy the soothing sounds of water. There are many decorative water fountains that are beautiful to watch and soothing to hear.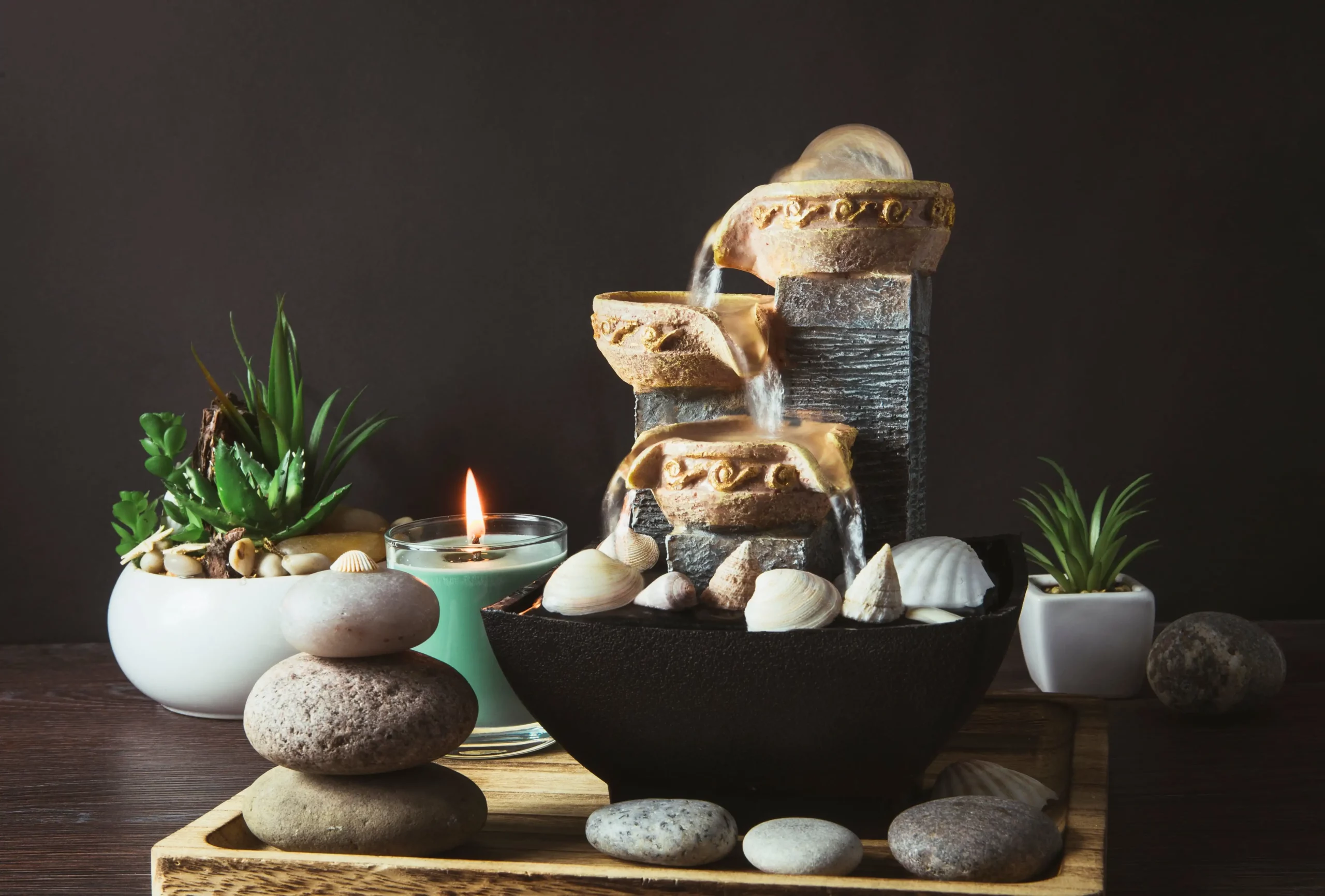 Stay tuned to this space! We will cover more such interesting decor tips.