Your personal surroundings can inspire happiness and well-being in ways that you may not even realise. Walls, windows, floors, furniture items, and other decor elements can alter how you feel. For instance, a minimalist living room with a restrained colour palette and metal decor elements will make you feel in a certain way. Whereas, a cosy vintage living room with sliding aluminium windows bringing in a lot of daylight will have a different effect on your emotions.
Let us take a brief look at how clutter, blue light, view outside your windows, and other factors affect your well-being.
Affect your sleep patterns, alertness, and mood – You would be surprised to know that the colour of light you are exposed to has a significant impact on your well-being. While exposure to white light during the day boosts your mental alertness, blue light during bedtime can disrupt your circadian rhythm.

Influence your behaviour and motivation to act: Your surroundings can motivate you to work productively. According to a study, people who live in tidy homes are physically more active than those who live in untidy houses. Research has found that cluttered spaces invoke negative emotions, frustration, and stress. A study published in Current Psychology, found significant links between procrastination and clutter problems. It was found that as people age, the frustration with clutter tends to increase.
Affect your mood and productivity: Exposure to natural light improves your mood and energy levels. A 2014 study found that office workers who had windows in their offices had a greater sense of well-being than those who worked in a windowless office. Another study found that patients who have had surgery recovered well when they stayed in rooms with windows looking out on trees and lawn instead of a brick wall. These patients needed fewer painkillers and went home sooner. When your personal environment is inspired by nature, it positively impacts your health and overall well-being.
Here is how high-quality aluminium windows can help you reconnect with nature?
Slim sightlines, high security, noise insulation and longevity are just some of the benefits of installing aluminium windows. Eternia windows are made using Duranium™, a stronger aluminium alloy invented by Hindalco. The alloy lends high wind-load and dent resistance to Eternia windows. Even cyclones are no match for Duranium™ strength windows.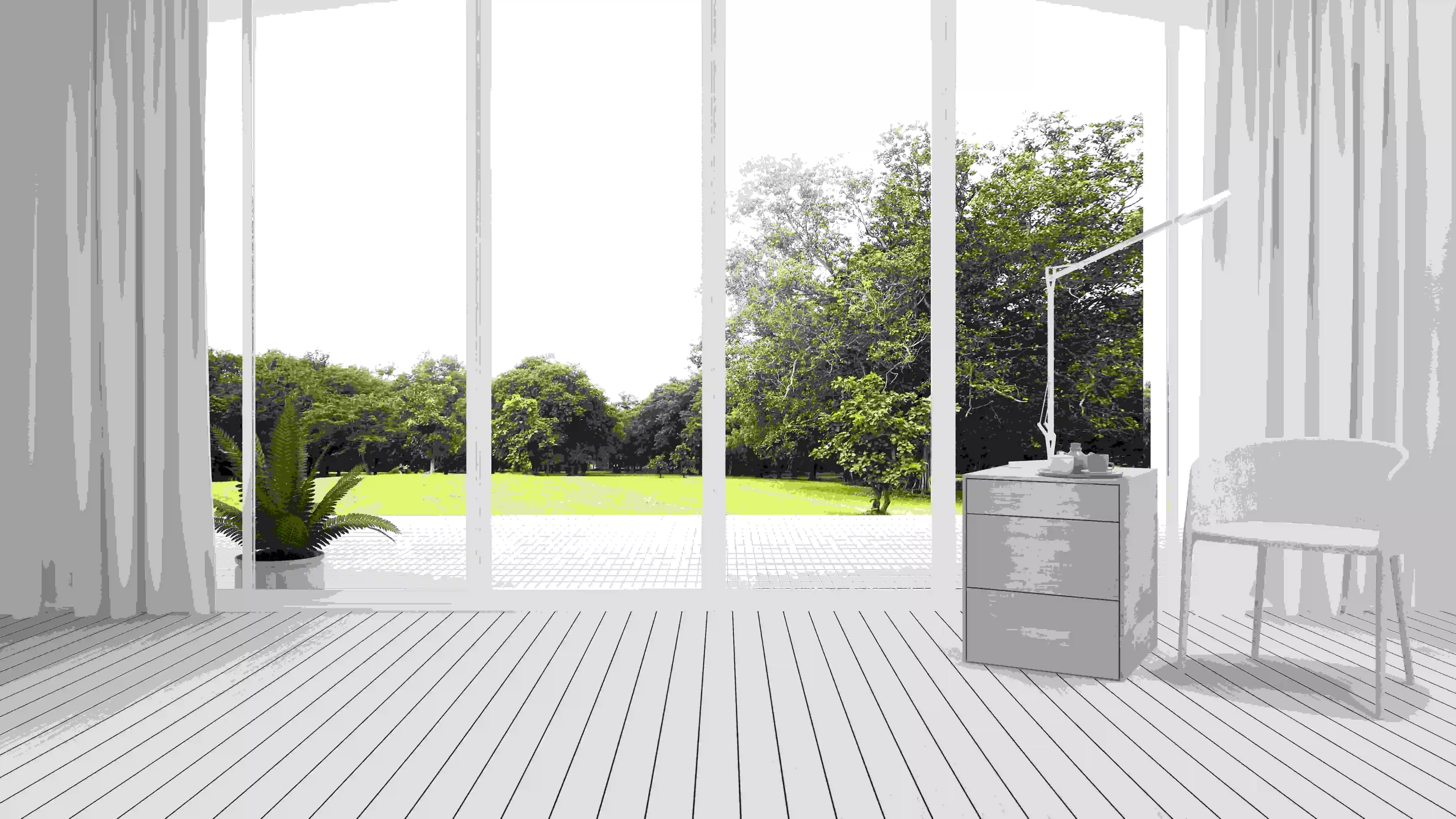 In addition to the benefits mentioned above, aluminium frames enable much larger, uninterrupted glass areas, thus helping you bring nature indoors.
1) They allow natural light into your home
High-quality aluminium windows offer a unique combination of strength and lightness. As a result, the windows have strong yet exceptionally slim frames with sleek lines which can enliven any living space by allowing an abundance of natural light. Recent decades have seen evidence pile up in favor of exposure to natural light. Some of the studies have found that regular exposure to sunlight boosts your Vitamin D levels and improves your sleep pattern. Also, natural sunlight is one of the best disinfectants.
Eternia windows have been designed to allow the maximum amount of natural light into your home. And living spaces with the right amount of natural light provide a much truer sense of illumination – you can read easily, work in the kitchen or tidy up your house without using artificial light.
2) They offer a good natural view
Large aluminium windows bridge the gap between the interior of your home and your gorgeous outdoor settings. Openable and sliding aluminium windows let you enjoy the natural scene outdoors from the comfort of your home. Be it waking up to be greeted by the exquisite views of your garden or taking a quick break and opening the windows to feel the natural breeze on your face, these windows let you enjoy nature and connect with it.
3) They keep out disturbing elements- noise & dust:
The airtight design with custom-developed accessories of Eternia windows provide better noise and dust insulation. The high-performance glass and strong window frames ensure that you can enjoy and relax at your home without worrying about noise from traffic and neighbours hampering your peace. With dust insulation, you don't have to worry about frequent cleaning – be it your curtains or cabinets.